Excavating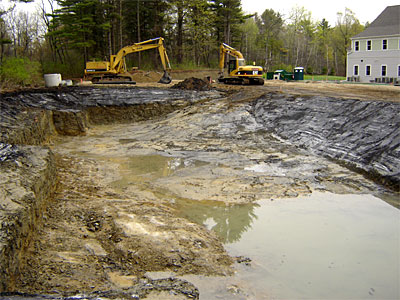 17 CAT excavators give Scott Dugas Trucking & Excavating the capability of completing any job small or large. We complete jobs from $500 to $1,000,000 with our versatile fleet of equipment. Our machines range in size from small ones (301.6, 303.5, 307), to our most commonly used machine (312), up to our larger pieces (320, 325, 330, 345). Most of our machines are equipped with both a digging and clean up bucket, others are equipped with hydraulic thumbs, and two have NPK hammers for breaking up concrete or ledge.
Utilities
Scott Dugas Trucking & Excavating can furnish and install all types of power, phone or cable conduits, waters and sewer mains and services or drainage pipe and catch basins for residential, commercial and municipal projects. We also do excavating and trenching for propane tanks and lines. If your site requires minimal disturbance, we have a 3.5' ditchwitch and a 5' ditchwitch.
Residential Construction
For smaller projects around your home to new house lots or even sub-divisions, Scott Dugas Trucking & Excavating can meet any residential site work need. We work with reliable and affordable sub-contractors than can complete any tree clearing or concrete foundation needs.
Commercial Construction
Scott Dugas Trucking & Excavating has the equipment, manpower and experience to complete commercial and municipal site work projects of any size.
Demolition
If you have a building that is beyond repair, no longer used or in the way of new projects, we have the equipment to demolish and haul your building or debris to the proper disposal site.
Impactor
Whether you need to remove ledge for utility installation, size rock for landscaping purposes, demolish old foundations or rubble, or if you want to remove a high spot of ledge in your lawn or driveway, we can meet your needs. We have a 29,000 lb excavator with a 1,500 lb impactor and a 65,000 lb excavator with a 5,000 lb impactor.
Drainage
Our site supervisors are state certified in erosion control practices. From wet lawns and poor drainage to shoreline erosion and stabilization, we have the knowledge and resources to fix your problems.