Trucking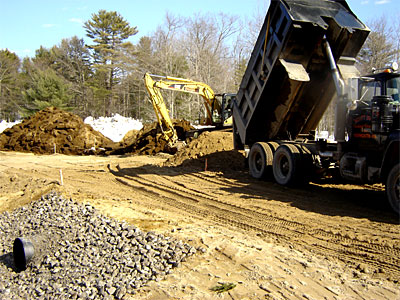 With a dozen Mack dump trucks (9 - 13 cy / 3 - 18 cy), and three one-ton dump trucks, Scott Dugas Trucking & Excavating can deliver any amount of material and quickly. Whether you are a homeowner looking for a small amount of material or a contractor in need of a few hundred yards we can meet your needs.
Call for pricing or to schedule a delivery and we can usually have it at its destination within 24 hours. We deliver to all over Cumberland, Androscoggin, and Sagadahoc Counties; we even deliver to the Islands of Casco Bay.
We also truck materials off. So if you need to get rid of hot top, ledge, crusher materials, concrete, unscreened loam, or fill call us for pricing and to schedule a truck.
A low-bed with 55 ton trailer and a pair of tag-a-long trailers helps us mobilize our equipment quickly. We also move the equipment for dozens of local contractors.